Sparta Greek Green Stuffed Olives- Garlic 580 gms
Embark on a flavor-packed journey with our Sparta Greek Green Garlic Stuffed Olives. These olives encapsulate the essence of Sparta's rich olive tradition, infused with the robust allure of garlic.
Features
Experience the perfect fusion of briny green olives sourced from Greece, meticulously stuffed with garlic cloves. This delightful combination offers a symphony of tastes that pays homage to Mediterranean flavors.
Use
Enhance your culinary creations by adding these garlic-stuffed olives to your dishes, bringing a burst of intense flavor to salads, pasta, or charcuterie boards. Alternatively, enjoy them as a bold and savory standalone snack.
Benefits
Indulge in the wholesome goodness of these olives, expertly combined with the aromatic potency of garlic. Delight in the healthful snacking they provide while immersing yourself in the heritage of Sparta's olive cultivation, all while embracing the rich tapestry of Greek gastronomy.
Sale price
Rs. 955.00
Regular price
Rs. 1,005.00
Tax included.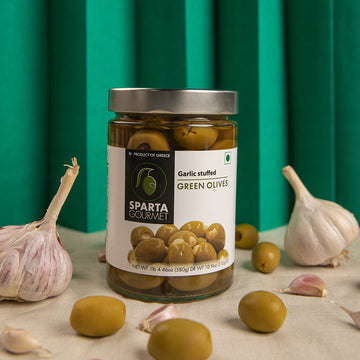 Sparta Greek Green Stuffed Olives- Garlic 580 gms
Sale price
Rs. 955.00
Regular price
Rs. 1,005.00
Unique Features Of This Product
Sparta
Brand
18 months
Shelf Life
580 Gm
Gross Weight
580 Gm
Net Weight
Greece
Country of Origin
Yes
Sugar Free
Vegetarian
Type 
Yes
Vegan Friendly
Yes
Gluten free
Cool, Dry & Dark Place
Storage
Top selling products from Sparta Gourmet