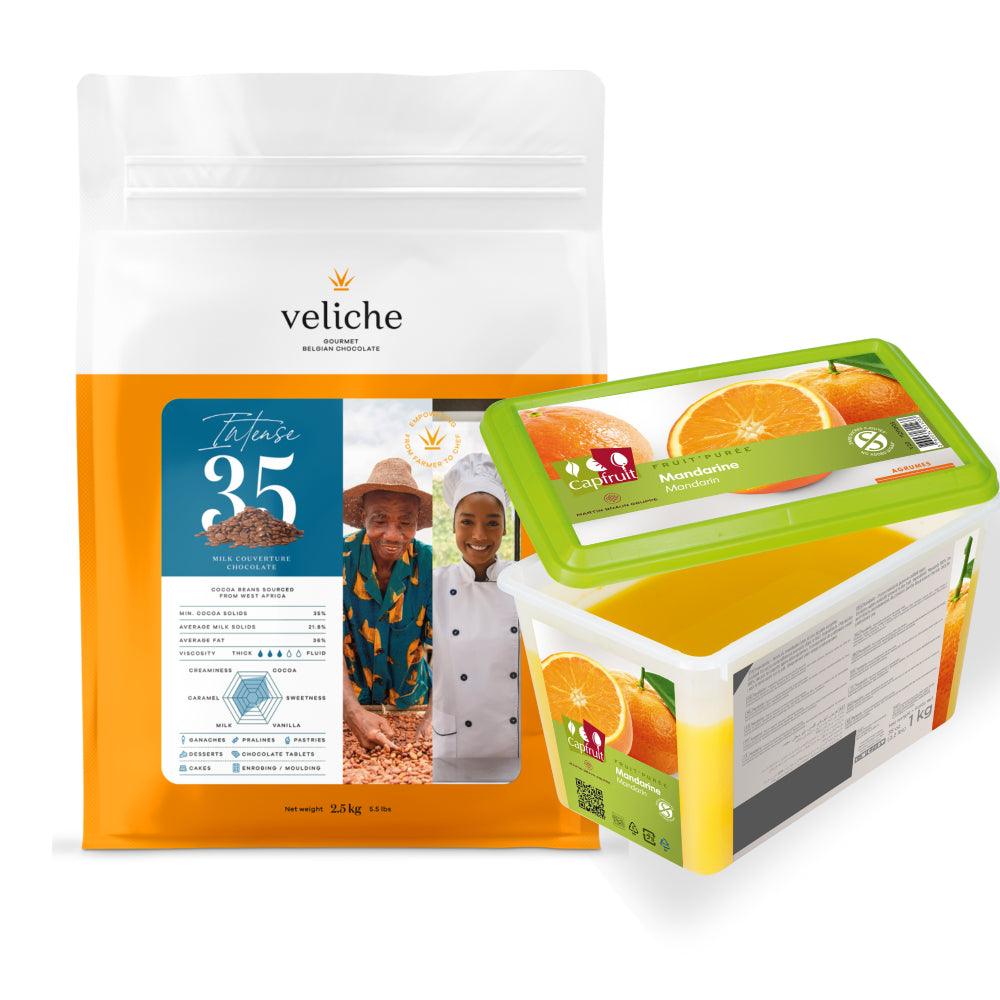 Discover the epitome of dessert luxury with our exclusive combo offer featuring the exceptional Veliche Gourmet Belgian Couverture Chocolate Intense Milk 35% and the delightful Capfruit French Sugar-Free Frozen Fruit Puree in Mandarin flavor. Elevate your culinary creations to new heights by merging the rich depths of Belgian chocolate with the vibrant essence of sugar-free French fruit puree.
An ideal gift for chocolate connoisseurs and health-conscious dessert lovers alike, this combo embodies the perfect balance between exquisite flavors and mindful choices. Whether you're seeking to delight a friend, family member or colleague, this thoughtful gift promises to capture their taste buds and imagination, allowing them to create gourmet treats that showcase their creativity and passion for exceptional flavors.
Redefine your dessert experiences, surprise your loved ones and treat your taste buds to a symphony of tastes and textures. Order now and embark on a journey of dessert creativity at an offer price that's as exciting as it is delectable!
Regular price
Rs. 3,495.00
Sale price
Rs. 3,495.00
Regular price
Rs. 4,403.00
Tax included.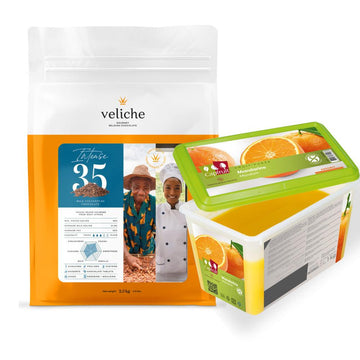 Sweet Symphony
Regular price
Rs. 3,495.00
Sale price
Rs. 3,495.00
Regular price
Rs. 4,403.00
Unique Features Of This Product
Veliche
Brand
24 months
Shelf Life
2.5 Kg
Gross Weight
2.5 Kg
Net Weight
Belgium
Country of Origin
No
Sugar Free
Vegetarian
Type 
Yes
Vegan Friendly
Yes
Gluten free
Cool, Dry & Dark Place
Storage
Unique Features Of This Product
Capfruit
Brand
36 months
Shelf Life
1 Kg
Gross Weight
1 Kg
Net Weight
Italy, France
Fruit, Product Origin
Yes
Sugar Free
Vegetarian
Type 
Yes
Vegan Friendly
Yes
Gluten free
Frozen, Refrigerated post opening
Storage
Top selling products from Capfruit